The Carpenter Center is excited to offer Classroom Connections online for the Spring 2021 semester.
All LBUSD elementary teachers are eligible to participate–there is no cap on participation, and teachers may sign up for more than one program. Each program will consist of a workshop video, available for viewing for two weeks, and a performance video, available for viewing for one week. Participating teachers will also be provided with a study guide to supplement the workshop and performance. 
Sign up here to receive your password to access these videos.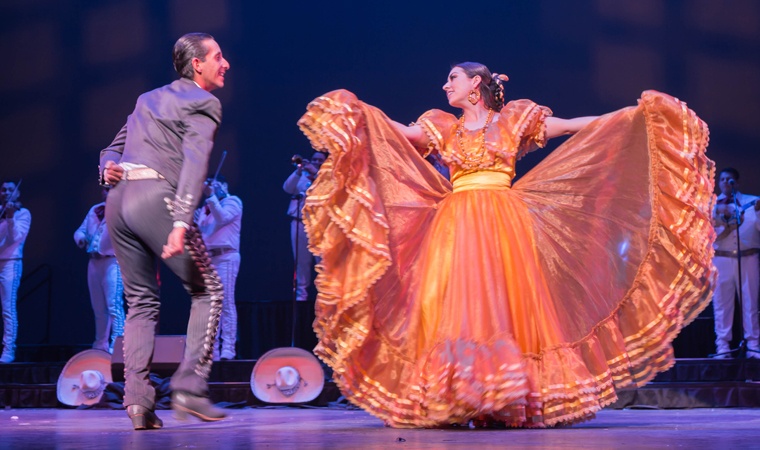 Ballet Folklorico de Los Angeles 
Grades: 1 – 5 
Workshop Video Available: 2/16/21 – 2/26/21 
Performance Video Available: 3/1/21 – 3/5/21
Artist Website: folkloricocompany.com 
 
Ballet Folklorico de Los Angeles (BFLA) was founded in 2011 by Kareli Montoya, and has distinguished itself as the nation's premier Mexican folk dance company. BFLA presents traditional Folklorico dancing throughout the Los Angeles area at venues such as the Nokia Theater, John Anson Ford Amphitheater, Greek Theatre, Disneyland, and more. In addition to presenting unique, colorful, and dynamic performances in collaboration with numerous artists and venues, BFLA also offers several classes each week at their dance academy for all ages.
---

Versa-Style Dance Company 
Grades: 1 - 5 
Workshop Video Available: 3/8/21 - 3/19/21
Performance Video Available: 3/22/21 - 3/26/21
Artist Website: versastyledance.org 
 
Versa-Style Dance Company creates highly energetic work that fuses dances that are culturally significant to local communities. These forms include Hip-Hop styles such as 90s Hip-Hop, Popping, Locking, Whacking, and Boogaloo, and Afro-Latin styles such as Salsa, Merengue, Cumbia, and Afro-Cuban. Versa-Style specifically aims to perform for the youth of Los Angeles County to instill the roots, history, and social and political issues surrounding the art for current generations and is dedicated to providing enriching opportunities through dance education. Through Hip-hop dance, students utilize their creativity and ingenuity to develop their individual voice. With direct mentorship, students develop an understanding of hard work, dedication, and communication skills.
---

Symphonic Jazz Orchestra
Grades: 1 – 5 
Workshop Video Available: 5/3/21 – 5/14/21 
Performance Video Available: 5/17/21 – 5/21/21 
Artist Website: sjomusic.org  
 
Symphonic Jazz is an innovative hybrid form of music blending the worlds of jazz and classical music. Members of the Symphonic Jazz Orchestra (SJO) will provide students with a workshop video on the history of jazz and a recording of a socially distanced performance. From counting out rhythms, to introducing instruments, to learning about the history of blues music, SJO inspires students to learn about the world around them and to question, create, and express. The Symphonic Jazz Orchestra has served over 65,000 young people and their families across Los Angeles County.  
Classroom Connections is supported in part by a grant from the Long Beach Arts Council, the City of Long Beach, the Earl B. and Loraine H. Miller Foundation, the RuMBa Foundation of Long Beach, and the California Arts Council.