Virtual Shakespeare Aloud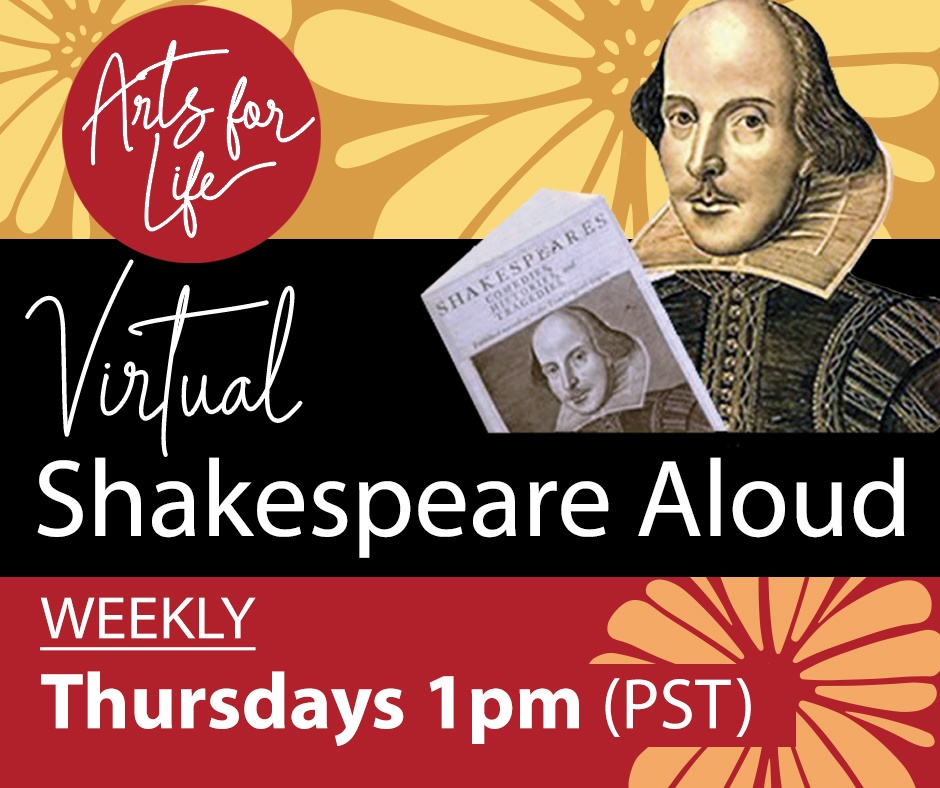 On designated Thursdays each week from 1pm–2:30pm PST, Shakespeare Aloud hosts a FREE reading of one of Shakespeare's plays. Community members are warmly invited to participate as readers or as audience members using the Zoom videoconferencing platform.
How to participate
Join our Virtual Shakespeare Aloud mailing list to receive your Zoom invitation link. Click the link on the day of the reading to join fellow Shakespeare fans. All readings take place at 1:00 pm PST. Join 15 minutes early for a "how-to" on using Zoom. Character selection will not take place until 1:00 pm. Readings will last approximately 90 minutes. Everyone is welcome! All voice, all dialects. No experience or audition is required. Shakespeare Aloud is intended to be a fun exploration of Shakespeare, so bring your sense of humor!
Do I need to download Zoom?
If you do not have Zoom downloaded on your mobile phone, tablet, or computer you will be prompted to download and install Zoom when you click the link to join the meeting. You may also download Zoom for free here.
Do I need to have an account?
You do not need to have an account to join a meeting. You may create one if you like.
Where can I learn more about Zoom?
We recommend the Quick Start Guide for new users. There you will be able to join a test meeting and try out Zoom before our virtual reading event.
Where can I find Shakespeare-themed backgrounds for Zoom?
Right click on any of the images below and choose "Save Image As" to save it to your computer. Open your Zoom meeting-app, visit your Preferences, then choose Virtual Backgrounds. Click the "+" next to Choose Virtual Background to upload your images and set your background.
Up Next: The Tempest, starting at Act III, Scene I. 
Thursday, August 6, 2020
Summary:
A ship carrying the King of Naples is wrecked on an enchanted island inhabited by the usurped Duke of Milan, Prospero. Prospero plots his revenge on the survivors; with the use of his magic, he carries out a plan to regain his Dukedom and betroth his daughter, Miranda, to the King's son.
Shakespeare Aloud is provided in collaboration with the Long Beach Public Library