When You Wish Upon a Star
A Jazz Tribute to 100 Years of Disney
Sunday, October 8, 2023 at 2 p.m.
This is a past performance.
An unforgettable afternoon of jazz that celebrates 100 years of Disney. Pianist and music director Sean Mason leads the house band for the National Jazz Museum in Harlem and two singer-storytellers in bringing beloved, nostalgic songs to life, all performed with the syncopated rhythm and complex harmonies that define jazz.
This production is not affiliated with, sponsored, or authorized by The Walt Disney Company.
 
Image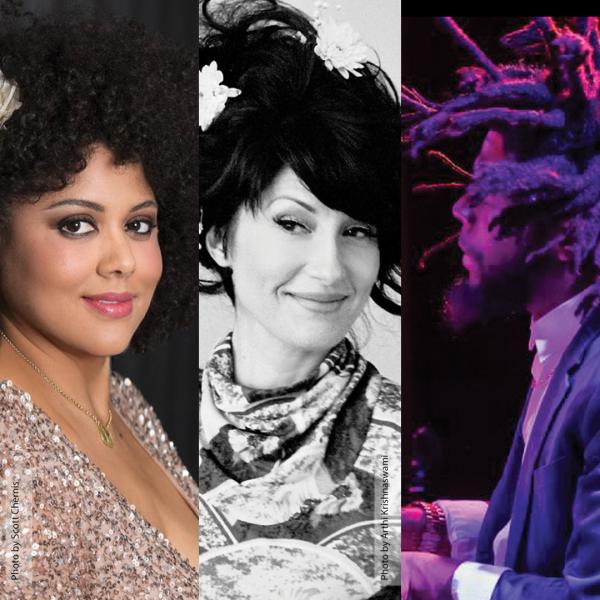 Sean Mason is a jazz pianist and composer based in New York City, quickly emerging as one of the premier talents of his generation. Born and raised in Charlotte, North Carolina, Sean took to the piano at age 13, teaching himself to play by ear the music of his upbringing; gospel, R&B & soul which quickly evolved into a highly original jazz style. Sean's unique voice in jazz is steeped in southern culture, giving extended time for groove without needing to fill in the space, while also displaying a range of vocabulary far beyond his years. As a bandleader, Sean leads two groups, the Sean Mason Trio based in Charlotte, and the Sean Mason Quintet in New York. Both groups play Sean's original music which has been described as highly melodic, swinging gospel jazz; as Sean puts it, "my purpose is to play dance music." Folk music, stride piano and the style of Sean's early hero Ray Charles are the main ingredients in a stew that is greater than the sum of its parts.
When studying at the University Of North Carolina-Greensboro, Sean met jazz legend Branford Marsalis who was immediately taken with the young student and recommended he apply to the Juilliard School in New York, "I told my brother [Wynton Marsalis, director of Juilliard Jazz], 'be on the lookout for this kid.'" Upon arrival in New York, Sean hit the ground running, quickly securing residencies for his groups at some of the more prestigious jazz clubs such as Smoke Jazz Club and Smalls Jazz Club, as well as sideman work with such luminaries as Wynton Marsalis, Catherine Russell, Herlin Riley, and many more; all while completing his studies at Juilliard. A major stepping stone occurred when NPR's influential multimedia show "Jazz Night In America" chose Sean among 5 musicians for their "Youngbloods" series. Penetrating even further into popular culture Sean was featured on Branford Marsalis' film score to the highly acclaimed Netflix production of August Wilson's "Ma Rainey's Black Bottom".
Sean's debut record will be released in early 2023 on Blue Engine Records, the label of Jazz At Lincoln Center. Produced by Branford Marsalis, it is an album of original compositions for the Sean Mason Quintet, featuring a lineup of young all-stars; Tony Galusi (trumpet), Chris Lewis (tenor saxophone), Felix Moseholm (bass), Domo Branch (drums) and Sean leading at the piano. Early reports cite the record's impressive display of maturity from such burgeoning talents. As Sean continues touring the world as a bandleader and sideman while fitting in near-constant session work, the future is bright.
Awarded "Most Influential African American in the Bay Area" in 2005 and "Best Jazz Group" in 2013, vocalist Dr. Kim Nalley is already being called "legendary" and "San Francisco institution.  Nalley was discovered by Michael Tilson Thomas singing to packed audiences live with no amplification. MTT recorded her singing live with no amplification and invited her to sing with the San Francisco Symphony. Subsequently she became a Rounder Records recording artist and went on a worldwide tour gracing concert halls from Moscow to Lincoln Center and festivals from Umbria Jazz to Monterey Jazz garnering effusive international press, awards and ranking high on the Jazz charts and Gavin Report for her many albums. Nalley had a solid background in classical music before switching to Jazz for the freedom it provided.  A true Renaissance woman, Kim Nalley has been a featured writer for JazzWest and SF Chronicle's City Brights, shortlisted for a Grammy nomination, a produced playwright, an avid Lindy Hop & blues dancer. and the former jazz club owner of Jazz at Pearl's. She earned her Ph.D. in history at UC Berkeley and is a published scholar.  She was shortlisted by Downbeat Critics Poll in 2017 as a "Rising Star" (Deserving Wider Recognition). Nalley's many philanthropic endeavors include founding the Kim Nalley Black Youth Jazz Scholarship, fundraising for Richmond-Ermet Aids Foundation, BLM, Next Village, SF-Marin Food Bank, and Department of Economic and Covid relief sponsored in part by Community Development/Connecticut Office of the Arts as part of their 2020 Artists Respond grant program.
​In looks, Kim Nalley exudes the aura of a diva from a by-gone era. Vocally, she has pipes to burn packing a 3 1/2 octave range that can go from operatic to gritty blues on a dime, projection that can whisper a ballad yet is capable of filling a room with no microphone, and the ability to scat blistering solos without ever losing the crowd's interest or the intense swing. She has been compared to all the greats, but in the end, it's Kim Nalley and no one else - an unforced instrument with clarity and jazzy musicality, effortlessly delivered, and a sense of humor to boot.
A born singer from a family that boasts several generations of jazz musicians, Nalley was taught piano by her great-grandmother and studied classical music and theatre in high school before relocating to San Francisco in the footsteps of the Grateful Dead. Working her way through college by singing in small dives and jam sessions, Nalley learned all of the intricacies of jazz the old fashioned way. Music critic Phil Elwood and San Francisco Symphony conductor Michael Tilson Thomas quickly discovered Kim Nalley and brought her to national attention after they noticed her singing nightly at the Alta Plaza to packed audiences - without amplification. Tilson Thomas hired Kim Nalley to sing a program of Gershwin with the San Francisco Symphony and recorded her farewell concert at the Alta Plaza.
​Since then, Dr. Kim Nalley has performed globally, including major jazz festivals such as Monterey, Umbria Jazz and Lincoln Center and lived in Europe for several years before returning to San Francisco to re-open the jazz club Jazz at Pearl's. During her tenure from 2003 to 2008, Nalley raised the club to iconic international acclaim as the owner and artistic director.
She has collaborated with artists such as Rhoda Scott, David "Fathead" Newman, Houston Person, James Williams, Michael Tilson Thomas and the San Francisco Symphony. She has recorded several on both major and indie labels, including She Put A Spell On Me, which was short-listed for a 2006 Grammy Award, and Million Dollar Secret, which charted in the Jazz Top 40.
Nalley often combines music and history to create historiographical concerts , including her award-winning "Ladies Sing the Blues*," "She Put a Spell on Me: Tribute to Nina Simone" for Jazz at Lincoln Center, "Freedom's Song: Music of the Civil Rights Movement," musical director and curator for the Martin Luther King Institute's Commemoration of the 50th anniversary of the March on Washington and "The Heart of Lady Day," a Billie Holiday biopic. She has performed with Angela Davis recreating her seminal book "Blues Legacies and Black Feminism" for SFJAZZ. As a playwright she has written "Ella: the American Dream" a bio-musical about Ella Fitzgerald which premiered in 2008. As an actress, she portrayed Billie Holiday in the dramatic play "Lady Day in Love," Blues Speak woman in Zora Neale Hurston's "Spunk" and has starred in Teatro Zinzanni as Madame Zinzanni, a role subsequently filled by Joan Baez and Sandra Reeves-Phillips.
​Dr. Kim Nalley's dissertation "GI JAZZ: African Americans as Artists and Occupiers in post-WWII Germany" details the German chittlin' circuit that popped up on and around Military bases, how some Jazz musicians chose to stay in Europe to become expats, interracial relationships, and tells the story of the 7th Army Band which boasted the titans of jazz, including: Cedar Walton, Eddie Harris, Leo Wright, Lex Humphries, Lanny Morgan, Don Menza, Don Ellis, Sam Fletcher and Billy Paul.  Other scholarly papers by Dr. Nalley include "Two Gardenias for Civil Rights: Robin Carson's photo of Billie Holiday" and "This Bitter Earth: Infertility for Billie, Ella and Sarah." She is also featured on Google Talk for her presentation "Rethinking Billie Holiday on her Centennial."
Sasha Dobson has performed all over the world in diverse contexts as a leader and first-call collaborator. The singer-songwriter and multi-instrumentalist represents one-third of hit trio Puss n Boots, alongside Catherine Popper and Blue Note Artist Norah Jones, with whose band Sasha has toured fairly regularly for the past eight years. As a guitarist and songwriter, Sasha bonds intuitive phrasing and refined storytelling chops with her honest, witty lyric-writing. Daughter of vocalist Gail Dobson and highly sought pianist and arranger, the late Smith Dobson, Sasha developed a core understanding of the lineage of jazz from an early age — one that has allowed her to develop into the powerhouse singer and multi-instrumentalist she's become. In addition to traveling the world as a three-dimensional performer, Sasha spent her early days in New York hitting as a leader at many of the city's noted venues including Jazz at Lincoln Center and Smalls Jazz Club where she and her band are a regular fixture. In recent years, she's led her own project at Farm Aid and opened for Willie Nelson. In 2020, Sasha released Simple Things, her anticipated EP featuring Don Was on bass and production and Jay Lane on drums. Her 2021 release of Girl Talk featuring guitarist Peter Bernstein reflects her most personal contribution to the music to date.