Nochebuena – Christmas Eve in Mexico
Featuring Ballet Folklórico de Los Ángeles & Mariachi Garibaldi de Jaime Cuéllar
Image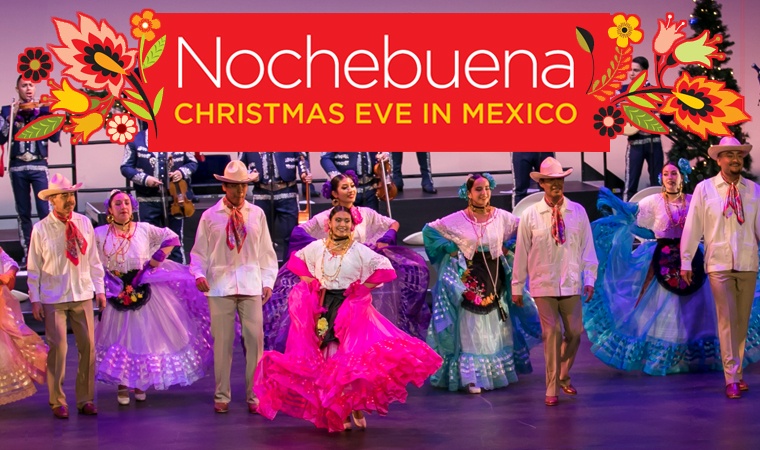 You can also view the performance on Facebook and YouTube.
This show is audience supported. Consider making a donation today to support online events from the Carpenter Center.
Celebrate the holidays at home with this vibrant evening of music and dance featuring two of L.A.'s most acclaimed performance ensembles: Ballet Folklórico de Los Ángeles and Mariachi Garibaldi de Jaime Cuéllar.
Christmas in Mexico isn't just a single day; it's a whole season of Christmas-related celebrations enriched by indigenous culture, Spanish heritage, and other influences. Let Ballet Folklórico de Los Ángeles & Mariachi Garibaldi take you on a journey through the rich tradition and heritage of Christmas Eve in Mexico!
Saturday, December 19, 7 p.m. PT
A Q & A with Artistic Director Kareli Montaya and Music Director Jimmy K. Cuéllar precedes the show at 6:30 p.m. PT.
Can't watch on Saturday?
Join @THEMUSCO Online
Thu, Dec 17, 7 P.M. PT (6:30 Q&A)
Visit muscocenter.org for more.
About the Artists
Ballet Folklórico de Los Ángeles catapulted to international recognition dancing at the 90th Annual Academy Awards in celebration of the Pixar movie Coco. Founded in 2011 by Kareli Montoya, this versatile group performs traditional and modern regional dances with precise movements and with colorful costumes designed by Kareli Montoya and her grandmother Teresa.
Currently celebrating their 25th season, Mariachi Garibaldi de Jaime Cuéllar was founded in 1994 by Jaime Cuéllar. The ensemble of mariachi musicians is now led by his son, Jimmy K. Cuéllar, a three-time Grammy award winner.  Mariachi Garibaldi de Jaime Cuéllar were featured artists in Center Stage Opera's 2019 production of Mozart's Le Nozze de Figaro.
This online event is presented in partnership with The Musco Center at Chapman University.