David Brighton's SPACE ODDITY
The Quintessential David Bowie Experience
Friday, January 19, 2024 at 8 p.m.
Journey through the genius and glam of David Bowie in this live, theatrically staged spectacle by David Brighton and his stellar band. SPACE ODDITY captures the pop icon's transformative personas and relentless innovations through timeless classics including "Changes," "Modern Love," and "Heroes" in this thrilling portrait of one of the most relentlessly innovative and influential musicians of our time.
Image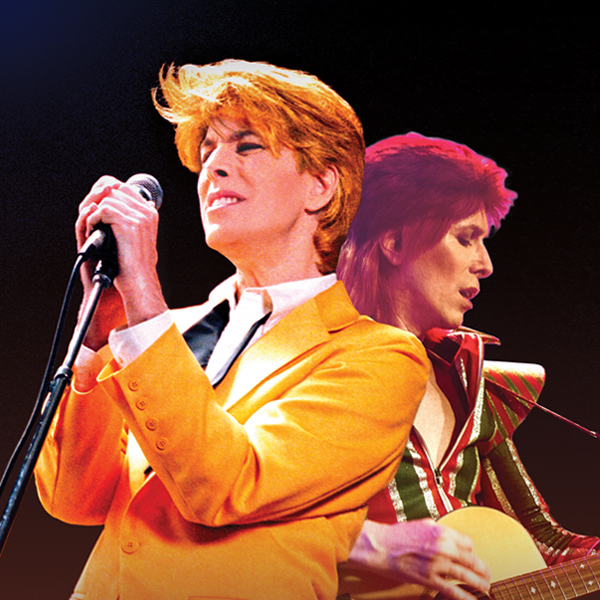 David Brighton is credited as being the world's best David Bowie impersonator, with one of the most entertaining acts ever to hit the stage.
Brighton's credits include performing side by side with David Bowie himself in the TV commercials for Vittel Mineral Water and for Reality - Bowie's CD. Brighton has performed as a resident cast member of the world famous Legends In Concert - the Las Vegas production show. He was also cast to portray David Bowie in the Warner Brothers feature film, The Watchmen. He also appeared as David Bowie on VH-1 television as well as in international pop star Shakira's concert video.
Brighton has performed worldwide on bills with some of the biggest acts the world has known, including: Morrissey, Elton John, Devo, Smash Mouth, Stevie Wonder, Kenny Loggins, Three Dog Night, Chicago, Little Richard and Barry Manilow. Brighton has performed at events for Arnold Schwarzenegger and Maria Shriver… Brooke Shields, Dustin Hoffman, Sylvester Stallone, Jay Leno, David Foster, Catherine Zeta Jones and Michael Douglas, Barbara Streisand, Quincy Jones, Nicholas Cage... to name a few.
David and the Space Oddity band have been performing throughout the United States, Canada, Mexico, Australia, and Europe – having just returned from touring Finland, Germany, Estonia, Belgium, France, The Netherlands, Spain, Luxembourg, Switzerland, Portugal, Israel, New Zealand and China…