David Benoit
Christmas Tribute to Charlie Brown
Saturday, December 16, 2023 at 8 p.m.
Get your family into the holiday spirit with an evening of Vince Guaraldi tunes from A Charlie Brown Christmas starring five-time Grammy nominee jazz pianist David Benoit! Also appearing with Benoit are vocalist Courtney Fortune and The All-American Boys Chorus! Don't miss this must-see show featuring the cherished holiday songs that have charmed generations.
Image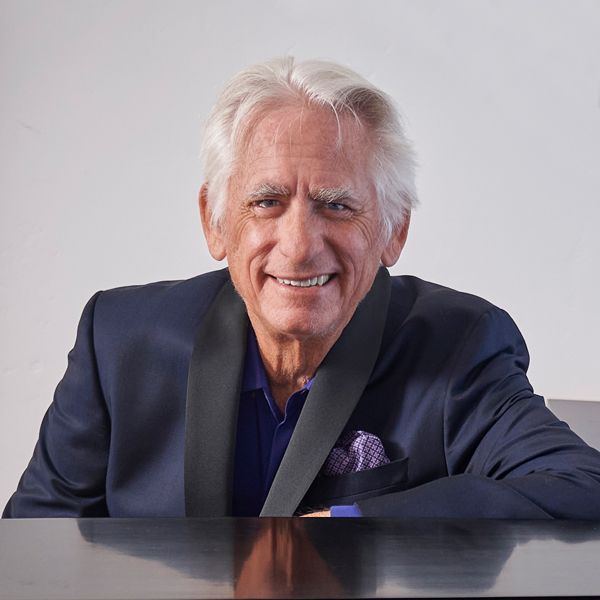 For four decades, the GRAMMY®-nominated pianist/composer/ arranger David Benoit has reigned supreme as one the founding fathers of contemporary jazz.   When he was coming up, Benoit worked with singers Patti Austin, Connie Stevens, Ann-Margaret, and Lainie Kazan as her musical director/conductor. In 1976, Benoit released albums on the AVI label from 1977 to 1984. He later released several chart-topping recordings for GRP, including Freedom at Midnight (1987), Waiting for Spring (1989) and Shadows (1991), which both topped Billboard's Contemporary Jazz Charts at #5, #1, and #2, respectively. His other noteworthy recordings include Letter to Evan (1992), his tribute to another piano influence, Bill Evans, and Here's to You, Charlie Brown: Fifty Great Years (2000). Benoit also recorded with Russ Freeman on their album The Benoit/Freeman Project (1994), and on their follow-up collaboration, 2 (2004), which was released on Peak Records. His other recordings for the label include American Landscape (1997) and Orchestral Stories (2005), which featured his first piano concerto, "The Centaur and the Sphinx," and a symphonic work, "Kobe".  
He has received three GRAMMY® nominations in the categories of Best Contemporary Jazz Performance for "Every Step of the Way" (1989), Best Large Ensemble Performance for GRP All-Star Big Band (1996), and Best Instrumental Composition for "Dad's Room," the latter from the album Professional Dreamer (2000) and in 2010, David Benoit received the Lifetime Achievement Award from the American Smooth Jazz Awards.  He has also worked with an impressive potpourri of musicians including the Rippingtons, Emily Remler, the late Alphonse Mouzon, Dave Koz, Faith Hill, David Sanborn, CeCe Winans, Keiko Matsui, Hiroshima, and Brian McKnight.
David's career as a contemporary jazz pianist began in 1977 and includes 40 solo recordings over the past 40 years. Many of these, including his 1987 GRP Records debut "Freedom at Midnight" and its Grammy nominated 1988 follow-up "Every Step Of The Way", are considered influential classics in the genre, which became known as "Smooth Jazz." Among his other Grammy nominations are those for Best Instrumental Composition (for "Dad's Room" and 1999's Professional Dreamer), Best Large Jazz Ensemble Performance (GRP All-Star Big Band) and voted "Keyboardist of the Year" in 2000 and 2001 by the Oasis Smooth Jazz Awards, and on Billboard's Contemporary Jazz Chart.  Currently, David is topping the jazz charts with guitarist Marc Antoine with their CD recording, "So Nice" and hit single "Caminando."
 Benoit has also been a popular film and television composer. His most notable film scores are The Stars Fell on Henrietta, produced by Clint Eastwood and starring Robert Duvall; and The Christmas Tree, produced by Sally Field, voted Best Score of 1996 by Film Score Magazine; His association with Charles Schulz and the famed Peanuts realm led to over 10 years composing music for the Peanuts TV special on CBS. In addition, he has written themes for the long running soap opera All My Children (ABC) and Sisters (NBC) and scored the "Movies of the Week" Final Descent (with the late Robert Urich) and Cadillac Jack (Starring Clint Black). In collaboration with lyricist Mark Winkler, David completed his first Broadway musical, Something's Got To Give about the life and times of Marilyn Monroe.
He has served as conductor with a wide range of symphonies including the Los Angeles Philharmonic, San Francisco Symphony, Atlanta Symphony, Dresden Philharmonic, London Symphony, Nuremberg Symphony, Philippine Philharmonic, Toledo Symphony, New World Symphony Orchestra, San Antonio Symphony, National Symphony Orchestra, Long Beach Symphony "Pops" Orchestra and of course, theAsia America Symphony Orchestra, to name a few. Piano performances have included Claude Bolling's Suite for Flute & Jazz Piano, Suite for Cello & Piano, Concerto for Guitar & Jazz Piano Trio with Angel Romero, guest soloist with Lalo Schifrin and his orchestra and as a tribute to Charles M. Schultz, performed the Peanuts Piano Concerto and the music of Vince Guaraldi in conjunction with his recording of Here's To You, Charlie Brown: 50 Great Years
 A long-time guest educator with the Mr. Holland's Opus Foundation, he received that organization's Excellence in Music Award in 2001. His musical selections have been featured on The Weather Channel and his version of Vince Guaraldi's "Cast Your Fate to the Wind" is included on compilation The Weather Channel Presents: Smooth Jazz 11 (2008).   At the age of thirteen, Benoit studied privately with pianist Marya Cressy Wright and continued his training with Abraham Fraser, who was the pianist for famed conductor Arturo Toscanini. He also studied music theory and composition, and later studied orchestration with Donald Nelligan at El Camino Junior College and film scoring from Donald Ray at UCLA. He studied conducting from Heiichiro Ohyama, assistant conductor of the L.A. Philharmonic, and furthered his musical education with Jan Robertson, head of the conducting department at UCLA, and UC Santa Barbara symphony orchestra music director Jeffrey Schindler.
David Benoit currently hosts a morning radio show on KKJZ 88.1 FM, CA, and continually tours & records, is composer in residence at Montalvo Arts, the Music Director a & Conductor for the Asia America Symphony Association, and resides in Palos Verdes, California with his wife Kei and daughter June Koko.
Courtney Fortune is an acclaimed singer and songwriter recognized by the John Lennon Foundation, Glamour Magazine, and Genlux Magazine as "America's Next Big Jazz Singer." She has written and performed songs for Atlantic Records, Universal Music Group, Sony Japan, Disney, Cartoon Network, MTV and ABC.
The All-American Boys Chorus, America's quintessential professional boys chorus, has delighted audiences worldwide for over 50 years. Based in Santa Ana, California, the chorus is comprised of 100 boys ages 8–15 drawn from throughout Southern California. Under the leadership of Artistic Director Wesley Martin, the Chorus provides boys with comprehensive musical training and unsurpassed performance and touring opportunities.