Ballet Folklórico de Los Ángeles
Mariachi Garibaldi de Jaime Cuéllar
¡Viva Mexico! ¡Viva America!
Saturday, March 23, 2024 at 8 p.m.
Featuring Ballet Folklórico de Los Ángeles, the nation's premier Mexican folk dance company led by Kareli Montoya, and the musicians of Mariachi Garibaldi de Jaime Cuéllar, led by three-time Grammy award-winner Jimmy Cuéllar, this colorful extravaganza is a joyful mix of folklorico, dance, and storytelling from both sides of the border. Set to traditional songs, as well as celebrating the music of Selena and Jenni Rivera, this incredible performance will capture your heart!
Image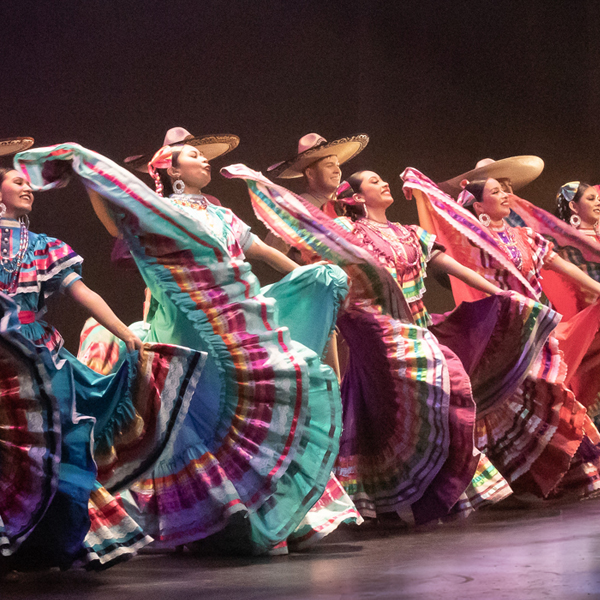 About the Company
Founded in 2011 by Kareli Montoya, Ballet Folklórico
de Los Ángeles (BFLA) has distinguished itself as the nation's premier Mexican folk dance company. Their skillful dancers have graced world-class venues such as the Anaheim Convention Center, Orpheum Theater, Nokia Theater, Greek Theater, John Anson Ford Amphitheater, Santa Barbara Bowl, Valley Performing Arts Center, the Staples Center, Tempe Center for the Arts and the Rady Shell at Jacobs Park. Since its inception, BFLA has worked with the industry's finest Grammy Award-winning artists such as Lila Downs, Pepe Aguilar, Mariachi Divas and Mariachi Los Camperos.
They have shared the stage and accompanied mariachi greats like Mariachi Nuevo Tecalitlan, world-famous Mariachi Vargas and Mariachi Garibaldi de Jaime Cuellar. Not shy of any genre, Ballet Folklórico de Los Ángeles has worked with music celebrities like Ana Barbara, Morrissey, Ruben (Cafe Tacuba), Las Cafeteras, Beatriz Adriana, Banda El Recodo, Paquita la del Barrio, Empress Of, and Armenian pop star Lilit Hovhannisyan. This amazing dance troop was the first Folklórico company in the country to accompany symphony orchestras such as the San Bernardino Symphony Orchestra and the Marina del Rey Symphony, both conducted by Frank Fetta.
Media coverage has made BFLA internationally recognized especially after being featured in the 2016 National Geographic Traveler UK edition and with their collaboration with Mitu Network on a Mariachi Remake of Beauty and the Beast's "A Tale as Old as Time," featuring Mariachi Garibaldi de Jaime Cuellar and BFLA's Director, Kareli Montoya. The video went viral on Facebook at 15 million views (and counting)! If you have seen the Pixar "Coco Live" at the Hollywood Bowl or on Disney+, then you have already had the opportunity to see BFLA in action, as they assisted Disney Studios with magical performances during 2017 for the release of "Coco." They were the folkloristas at the D23 Expo where they performed on stage with Benjamin Bratt, Mariachi Divas and the Grammy®- winning Gordon Goodwin Big Phat Band.
Perhaps you caught them at the Coco Premiere at El Capitan Theatre or even on Dancing With the Stars, "Disney Night." If you missed those performances we are sure you saw them grace the stage at the 90th Annual Academy Awards alongside Natalia Lafourcade, Gael Garcia Bernal and Miguel with a rendition of Coco's Academy Award-Winning song, "Remember Me."
About Kareli Montoya, Artistic Director
Kareli Montoya's professional career began at age fifteen, when she became the youngest dancer to perform at the legendary La Fonda de Los Camperos. Her commitment to her craft led to a tenure with La Fonda lasting many years. Ms. Montoya continued her professional dancing career while attending Cal-State University of Los Angeles, where she received a Bachelor's Degree in Social Work in 2011. Having fulfilled the goal of being the first in her immediate family to receive a college degree, Kareli traveled to Colima, Mexico to realize another professional goal: study with the internationally known Ballet Folklórico de la Universidad de Colima. During her time in Colima, Kareli continued to acquire new techniques and a stronger passion for Folklórico which then led her to a return to Los Angeles with the distinct goal to establish her own professional dance company. From this drive and commitment to the art of Folklórico, the Ballet Folklórico de Los Angeles and BFLA Performing Arts Academy, currently known as Thee Academy, were born.
While Kareli had been recognized for her work within the Folklórico community, it was her extensive effort as the "COCO" choreographer for Disney Studios that put her on the international stage. Her choreography work for Disney Studio began in 2017 at the D23 Expo, where Kareli assembled over 100 Folklórico dancers that closed the Pixar presentations. Impressed with her professional capabilities, Disney Studios called on Kareli to choreograph the cempasuchil carpet entrance for the world premiere of "Coco." 2017 was rounded off on "Dancing With the Stars," where Kareli assisted Artem Grigoryev with his choreography of the song "Remember Me." Kareli's work throughout 2017 led to an opportunity of a lifetime when she was asked to assist Mandy Moore (Choreographer for the movie La La Land), at the 90th Academy Awards with a rendition of the Academy Award- Winning song "Remember Me" which was then brought to life on air by Kareli and several BFLA dancers. Never would have Kareli thought that her love and passion for Folklórico would lead her to assist Cindy Stuart with the Disney On Ice for the COCO segment of the Mickey's Search Party Show or that her choreographies and performance would be streamed on Disney Plus with "Coco Live" at the Hollywood Bowl. Disney, however, isn't the only organization to recognize Kareli's talents as she can now add the off-Broadway musical "Americano" to her growing list of choreography consultations.
On top of the highlight of having worked/performed as part of the 90th Academy Awards, Kareli also had the opportunity to collaborate with world-renowned choreographer Nika Kjun on a featured number that was performed with Banda El Recodo and Lila Downs. Prior to her work with Disney Studio, Kareli was nationally recognized as the "Mexican Belle" for her performance and choreography in a partnership with Mitu Network and Mariachi Garibaldi's de Jaime Cuellar's remake of "A Tale as Old as Time" which has become a viral video with over 15 million views.
Continuing to work on her craft and give back to the community, Kareli has earned her master's degree in Social Work at the University of Southern California adding Dance Movement Therapy to her vast list of skills.
About the Company
Mariachi Garibaldi de Jaime Cuéllar has enchanted audiences with their dynamic musicianship and lively stage presence for over twenty five years. Founded in 1994 by Jaime Cuéllar, Mariachi Garibaldi's commitment to providing a quality representation of the mariachi genre has propelled them into becoming one of Los Angeles most recognized Mariachis and arguably in California.
Under the direction of Jimmy "El Pollo" Cuéllar, son of Jaime Cuéllar, Mariachi Garibaldi is considered one of the leading Mariachi ensembles regularly called upon to share the stage with some of Mexico's most beloved performers such as The Aguilar Family: Pepe, Angela and Leonardo, Juan Gabriel, Alejandro Fernandez, Pedro Fernandez, Espinoza Paz, Paquita del Barrio, Aida Cuevas, Ana Barbara, Steeven Sandoval, Graciela Beltran, Maria Elena Beltran, Yolanda del Rio, Pablo Montero, Mercedes Castro, Humberto Herrera, Beatriz Adriana, Empress Of, and Armenian pop star Lilit Hovhannisyan. Most recently Mariachi Garibaldi were featured performers for Camila Cabello's Tiny Desk concert performing "La Buena Vida," truly displaying that mariachi music transcends across all platforms.
Their elevated musicianship has also opened invitations to perform on prestigious stages to sold out crowds, such as the Auditorium Theater in Chicago, Teatro Degollado, Valley Performing Arts Center, The John Anson Ford Amphitheatre, Bakersfield Fox Theatre, The Chandler Center forthe Arts, The Smith Center for the Performing Arts, Tempe Center for the Arts and The Gallo Center for the Arts.
Mariachi Garibaldi enjoys a professional partnership with Ballet Folklorico de Los Angeles and together they have entertained thousands of people at sold out venues. Both collaborated with Mitu Network to recreate Disney's Beauty and the Beast's "Tale As Old As Time" which catapulted their professional careers and became a viral video with over 15 million views. Their ornate mariachi jacket became a commodity of trade when Dodger pitcher Joe Kelly wore it with honor at the White House.
About Jimmy K. Cuéllar, Musical Director
Originally from Bakersfield, California, Jimmy Cuellar began his mariachi career as a teenager alongside his father Jaime Cuellar and was a founding member of Mariachi Garibaldi de Jaime Cuellar. His dedication to his musical craft drove "El Pollo" to fine-tune his skills on the violin, guitarron, vihuela, guitar and guitarra de golpe, securing him a ten-year tenure with Mariachi Los Camperos de Nati Cano. In subsequent years, Jimmy accompanied well known Latin recording artists Yolanda del Rio, Mercedes Castro, Humberto Herrera, Lila Downs, Vikki Carr, Aida Cuevas, Eugenia Leon, and Jose Feliciano as well as has been an instrumental member in various recoding productions, including the 2010 release of Ry Cooder and The Chieftains, San Patricio.
Beginning In 2005, Jimmy saw Grammy success
when he was a featured artist on the Grammy Award winning album cELLAbration: A Tribute to Ella Jenkins. The following year "Llegaron Los Camperos: Concert Favorites of Nati Cano's Mariachi Los Camperos" received a Grammy nomination for "Best Mexican Album". 2008 added to his Grammy success with "Cien Por Ciento Mexicano" by Pepe Aguilar with 2009 rounding out a Grammy award to add to his mantle
for Best Regional Mexican Album with "Amor, Dolor, y Lagrimas".
Composer, arranger, multi-instrumentalist, three-time Grammy Award nominated and three time Grammy Award Winner, Mr. Cuellar understands the importance of education. Having received his Bachelor of Arts degree from California State University, Long Beach's Bob Cole Conservatory of Music in 2009, "El Pollo" decided to continue his musical education and enroll with the University of Nevada, Las Vegas where he is pursuing a Masters in Music Composition. His talents as an educator as well as nationally-regarded expert in the genre have earned Jimmy a yearly seat as an adjudicator for the statewide Mariachi Competition held in Texas. Along with Kareli Montoya, he runs Thee Academy, one of the most prominent joint Folklorico/ Mariachi schools in the West.