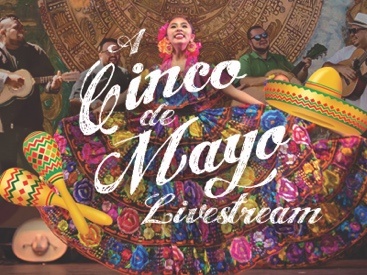 THE CARPENTER CENTER PRESENTS
A Cinco de Mayo Livestream
by Ballet Folklórico de Los Angeles and Jarabe Mexicano.
On Tuesday, May 5, 2020, Ballet Folklórico de Los Ángeles and Jarabe Mexicano celebrated Cinco de Mayo with a livestream of dance and music on Facebook Live! Relive the archived performances at the links below.
An Introduction to Folkloric Dance
Maestra Kareli Montoya, Artistic Director of the world-famous Ballet Folklorico de Los Angeles, has the whole familia up and dancing with this fun intro to Mexico's beautiful art form! Watch on Facebook or YouTube.
Gustavo Alcoser: Tavo's Bordeño Revue
Jarabe Mexicano's lead singer offers a gently instructional concert featuring bilingual lyrics and your favorite songs from the border! Watch on YouTube.
How do I make a contribution?
To support Ballet Folklórico and Jarabe Mexicano, click the button below.
Note: Your vital contributions are collected directly by the artists' agent, not the Carpenter Center, and are not tax-deductible. A special thanks to Marian Liebowitz Artist Management for making this event possible and for making sure the artists receive your love.