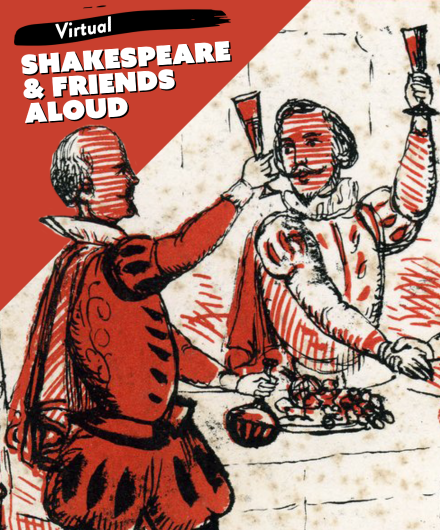 Join fellow Shakespeare fans in reading aloud—or just listening to—the works of the Bard and his contemporaries.
(If you'd prefer to watch a video detailing how to join, watch our guide here.)
Step 1: Register
If you've purchased a ticket to a recent show at the Carpenter Center, then you'll feel at home signing up for a FREE Shakespeare reading. To start, visit our Shakespeare & Friends Aloud page and click the Register button.
Choose an upcoming reading
Select "See this event," then choose the highlighted calendar date
Click the time, in this case "4:00 pm"
From the drop-down menu, choose how many attendees you'll be bringing, or "1" if it's just you.
Step 2: Add the event to the shopping cart
Click the red "Add tickets to cart" button to add the event to your cart, then click the red "Checkout" button to continue. You should now see your shopping cart with your chosen event listed. You can either continue with the checkout process in the next step or return to the overview of upcoming readings to add additional readings to your cart.
Step 3: Checkout
Once you've added one or more reading dates to your cart, it's time to checkout!
If you're not yet on the checkout page, click the shopping cart icon at the top of your screen and choose "Checkout."
Near the bottom of your screen, optionally add your first and last name, then click "Submit" followed by the red "Continue" button at the bottom.
Though the Shakespeare readings are free, on the following screen you'll have an opportunity to make a meaningful impact through a donation. You can choose to support the Carpenter Center, our Arts for Life program (of which Shakespeare Aloud is a part), or our Student Participation Fund. Or you can click the red "Continue" button.
If you already have an account with us from prior ticket purchases or event registrations, you can log-in here. If this is your first time checking out through our ticketing system, please enter your contact details, followed by the red "Continue" button.
Review your order, then click the red "Continue" button.
If you've elected to make a donation, enter your Payment Info, otherwise select the checkboxes to agree to marketing and terms & conditions, then click the green "Place Order" button.
You will next be taken to an order confirmation page and the option to "View Receipt" which you can save or print on your end. Be sure to scroll to the bottom of this order confirmation page for important information and links.
Step 4: Important links
On your order confirmation page, be sure to review the important information about the upcoming reading, including a link to the play's text. You'll also find a link to the Zoom conference, as well as a link to download the Zoom software (free) if you don't already have Zoom installed on your device. Finally, there's also a link to sign up to be a reader. All of these links will also be sent to the e-mail address you used during checkout or that is on file with us.
If you've checked out with more than one reading event in your cart, be sure to scroll down on your receipt page or your confirmation email to see all the links. The links to sign-up to be a reader, as well as the Zoom invite link(s), are unique to each event!
Step 5: Sign up to be a reader—optional
If you'd like to sign up for a chance to read the part of a character, click the link on the confirmation page or in the email you receive, then choose your characters.
Step 6: Joining
On the day and time of the event, click the Zoom link (from your email or your checkout page), turn on your camera and microphone, and join the fun!
Step 7: Sign up for more readings!
After the reading, be sure to register for additional Virtual Shakespeare and Friends Aloud readings. We can't wait for you to join us!