Support the Carpenter Center
The Carpenter Center is a professional performing arts center on the campus of California State University, Long Beach. It presents world-class artists from around the country and around the world, bringing an array of international artistic accomplishment to CSULB students and residents of Long Beach. Each season, the Carpenter Center offers performances in dance, music, spectacle, theatre, film, and family entertainment. The Carpenter Center is the premier performing venue on the CSULB campus; performances from the B [Inside the Carpenter Center] ob Cole Conservatory of Music, the Dance Department, Film and Electronic Arts, and other campus organizations are presented here. The theatre is also the home of our resident company, Musical Theatre West, which produces a full season of broadway musicals.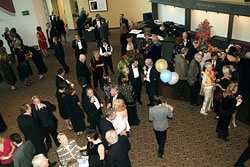 Part of the Carpenter Center's Arts for Life program is a vibrant arts education outreach experience called Classroom Connections. This in-depth program provides substantial arts experiences with professional artists in local classrooms. Elementary school students meet artists in their classrooms on a personal level, then at the theatre, in a fully-produced show in a professional theatre. Through generous support from many foundations, businesses and private individuals, Classroom Connections is provided to more than 10,000 students each year at no cost to the schools. Classroom Connections has earned consistent high praise from teachers, parents and the administrators of the Long Beach Unified School Districts for more than ten years. 

The Carpenter Center is committed to providing these distinctive arts experiences to our community while maintaining a fiscally-responsible organization. We rely on the support of individuals, businesses, and foundations that share our belief in the importance of the arts.

While the Carpenter Center is located on the CSULB campus, less than 18% of our budget comes from the university. Additionally, ticket sales cover only a portion of the cost of presenting these world-class artists who perfrom on our stage. The artist from in presented series, all Arts for Life activites and all capital projects are funded through the generosity of our donors.
The Carpenter Center is pleased to offer a series of benefits designed to enhance our donor's enjoyment of the performances here and at other venues in southern California. The Directors Circle welcomes all donors at the $1,000 and higher annual level, to exclusive backstage receptions with artists, to special events here and at other venues, and with a standing invitation to enjoy the Baker VIP lounge for refreshments before and at intermission at all Carpenter Center-presented performances. 
Call 562.985.4274 or email cpac@carpenterarts.org for more information.
Membership and Benefits
The following benefits are offered with deep appreciation. Each contribution is an endorsement of our efforts to provide arts experiences for everyone in our community through Arts for Life, and keeps the Carpenter Center available for community programs and performances, and as commissioners of new works, an essential step to elevate the quality and breadth of performing arts in our culture. 
Please join the growing number of individuals, businesses and foundations as they support our community by making the arts a priority. Simply add a donation to your ticket order or contact Megan Kline Crockett at 562-985-7098 or megan.klinecrockett@csulb.edu to become a Carpenter Center donor.
For annual gifts up to $99: 
Priority notification of Carpenter Center performances and Arts for Life events
$100 to $999 annual gift:
All benefits above plus listing in the Carpenter Center program
 
$1,000 to $2,499 annual gift:
All benefits above plus Directors Circle Membership
Directors Circle members enjoy the following benefits when attending Carpenter Center presented events:
Complimentary refreshments in the private VIP Lounge before and during intermission  for each event (excluding cabarets)
Backstage receptions with specially selected artists
Invitations to VIP events and receptions
Name listing on donor wall in Carpenter Center lobby
Invitation to special arts events through the year
$2,500 to $9,999 annual gift:
All benefits above plus Premier Directors Circle Membership
Premier Directors Circle members enjoy all Directors Circle benefits plus:
an elegant dinner with Interim Executive Director Megan Kline Crockett and an artist from our current season
a pair of complimentary VIP tickets to that performance
support acknowledgment on program title page for that performance
$10,000 and above annual gift
All benefits above plus Maestro Circle Membership
Maestro Circle Members enjoy all Premier Directors Circle benefits plus:
Designation as Honorary Performance Sponsor for a CPAC event (chosen by member)
four complimentary VIP tickets to sponsored performance and opportunity to meet the artist backstage