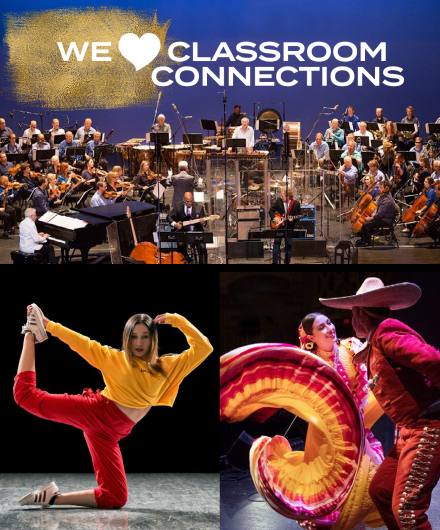 In 2020, the Carpenter Center's Classroom Connections program was poised to again provide free artist workshops to Long Beach Unified classrooms, followed by a performance in our theatre for participating students. Though the coronavirus pandemic did its best to upend Classroom Connection's 20+ year run, we pivoted to meet students where they were, learning from home.
Now, as this school year's Classroom Connections program draws to a close, we'd like to share the impact the program—and your generous support of the Carpenter Center's Arts for Life program—has made on the arts education of K-5 schoolchildren in the Long Beach Unified School District.
This year, over 2,300 students in 85 classrooms signed up to take part in Classroom Connections! A silver lining in our move to online programming was our expanded reach—more than 65% of classrooms were able to join us for all three of our programs this year! (Ordinarily, we have to limit classroom participation to only one artist a year because of limited capacity.) For each online arts education experience, teachers and students were provided with study guides, workshop videos by the artists, and a final performance video.
This spring, schoolchildren were introduced to folkloric dance and mariachi instruments and song forms through Ballet Folkórico de Los Ángeles, the nation's premier Mexican folk dance company. Versa-Style Dance Company followed with an exploration of Hip-Hop culture, from music to spoken word, dance, and visual arts. (Don't miss Versa-Style Dance Company's free community performance this Friday, May 21st.) Our final spring 2021 Classroom Connections artists were Carpenter Center favorites Symphonic Jazz Orchestra. Their "What is Jazz?" lessons and performance explored the birth of Jazz from the Black community, including significant musicians from Bessie Smith to Miles Davis, as well as the instruments, dances, and songs of the art form.
We can't wait to bring artists into classrooms and to invite schoolchildren back into our theatre. To help make that happen, please consider supporting Classroom Connections through a donation to our Arts for Life program.
Classroonm Connections is supported in part by a grant from the Long Beach Arts Council, the City of Long Beach, the Earl B. and Loraine H. Miller Foundation, the RuMBa Foundation of Long Beach, and the California Arts Council.