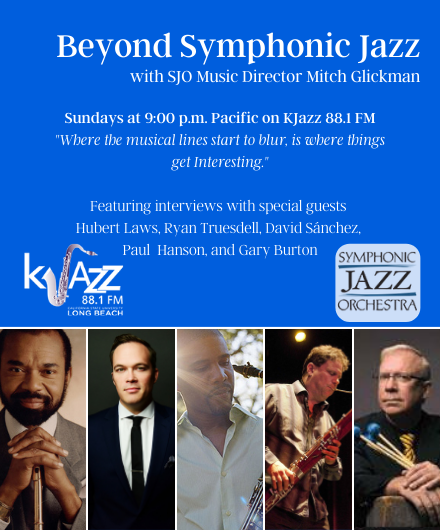 Happy November! Every Sunday evening this month, catch an interview with a special guest on KJAZZ 88.1 FM's "Beyond Symphonic Jazz" radio show!
Hosted by Symphonic Jazz Orchestra Music Director Mitch Glickman, the third season includes rare recordings and new works at the intersection of jazz and classical music, plus in-depth interviews with special composers and performers who support the great American tradition of symphonic jazz.
This month:
Nov. 1: Flutist Hubert Laws
Nov. 8: Composer/producer Ryan Truesdell
Nov 15: Saxophonist/composer David Sanchez
Nov 22: Bassoonist Paul Hanson
Nov 29: Vibraphonist/composer Gary Burton
Tune in to "Beyond Symphonic Jazz" on KJAZZ 88.1 FM every Sunday evening from 9–11 p.m. PT. You can also listen to archived broadcasts.